TATA Knotted fence prices vary depending on height. Here is a breakdown of the latest prices for TATA Knotted fences made of TATA Wiron wires. Buy TATA Knotted Fence made of Tata Wiron GI Wire online in Tamil Nadu on Deltaware.in
TATA Knotted fence prices vary depending on height. Here is a breakdown of the latest prices for TATA Knotted fences made of TATA Wiron wires. Buy TATA Knotted Fence made of Tata Wiron GI Wire online in Tamil Nadu on Deltaware.in
Specification #
Technical Specification of TATA Knotted Fence.
| | |
| --- | --- |
| Height | 4ft, 5ft, 6ft, 8ft |
| Length | 100ft (30.48 meter) |
| Gap between stay wires | 152 mm |
| Mesh Size | Variable |
| Wire Diameter | 2.5mm (12G) |
| Wire Type | Hot Dip Gavalinized, High Temper Wire |
| GI Coating Thickness | 60 micron |
| Minimum Order Quantity | 10 Rolls or 1000ft length |
| Datasheet | View |
Note : Price are subject to change without notice, please contact our support team for the latest price.
---
Features #
Strength: 2.5 mm high tensile galvanized wire is used.
Fixed Knot: Cross lock knot – Knotted Fence keeps the fence rigid for longer.
Impact Resistance: Tension crimps in the horizontal wires allow expansion in hot summers and contraction in cold winters. The crimps help create a spring action, so that the Knotted Fence regains its shape after impact.
Flexibility: Variable vertical gaps – small gaps at bottom, large gaps at top.
Uniform zinc coating applied using 'Hot Dip' galvanizing technology.
Advantages #
High tensile wire that allows 20 feet gap between poles and minimizing the use of poles.
Requires less labour with faster installation process.
Protects the farm but does not harm the animal.
Low maintenance required with longer rigidity and does not sag with time.
Lighter. Variable vertical gap. Smaller gap at bottom, more gap at top.
Cost saving.
Approximate Lifespan #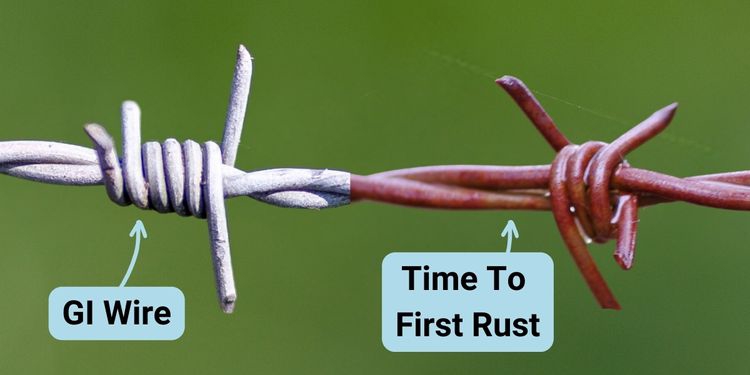 Below is the approximate lifespan aka Time to First Maintenance (TFM) of GI Wire with Zinc coating thickness 60 microns.
Areas Type
Time to First Maintenance (TFM)
(in Years)
High humidity & some air pollution
~25+
Moderate salinity with air pollution
12-17
High salinity (Coastal/offshore areas)
8-12
Note: The actual life span may change with environment factors.
Read more about life span
Dimension #
Technical Specification of TATA Knotted Fence.
Above 3ft - 6" gap
Mid 2 ft - 4" gap
Bottom 1ft - 3" gap
Vertical wire gap: 6"
Details #
TATA Knotted Fence strength in every knot.
TATA Knotted Fence installed with TATA Stambh Post.
TATA Knotted Fence is the best fence choice for all types of animals.