கம்பி வேலி / Chain Link Fence
M.R.P. : ₹4000/roll
₹3200/roll (20% off)
( Inclusive of GST )
Contact our customer support to get the latest price and place order.
Product Details 🔗
கம்பி வேலி / Chain Link Fence is available at Deltaware.in is of best quality. Please view our large selection of related products in Similar products section.
Commercial Chain Link Fence Price List ↱
Chain link fence prices vary depending on a number of factors. These factors include the material, height, wire diameter, and surface treatment. Here is a breakdown of the latest prices for chain link fences:
Price List of Commercial Chain Link Fence #
Loading...
Specification #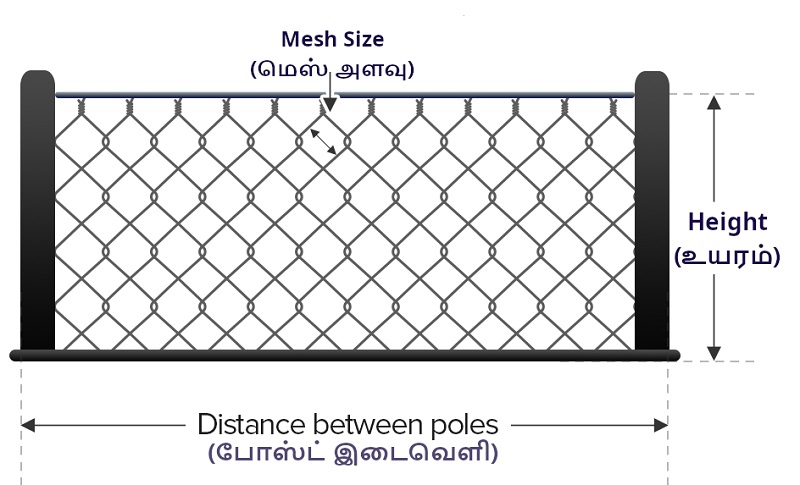 | | |
| --- | --- |
| Material | GI Wire |
| Brand | Commercial |
| Grade | Commercial |
| Wire Dia | 2.5 mm |
| Standard Height | 5ft, 3ft, 4ft, 6ft, 7ft |
| Standard Length | 90ft |
| Mesh Sizes | 2x2, 2.5x2.5, 3x3, 3.5x3.5, 4x4 |
| Minimum Order Quantity | 1 Roll |
| End Type | Folded |
5ft Height Always instock, மற்ற உயரங்கள் 3ft, 4ft, 6ft, 7ft ஆர்டரின் பேரில் தயாரித்து தரப்படும் (Against order)
நீளம் உங்கள் தேவைக்கு ஏற்றவாறு தயாரிதூதரப்படும்
Why buy TATA Fence from Deltaware #
Deltaware is a leading manufacturer and wholesale supplier of Commercial Chain Link Fence, Steel Fence Post, TATA Wiron Wire, TATA Chain Link Fence, TATA Knotted Fence, TATA Barbed Wire, Tata Stambh Post, in South India (Tamil Nadu). We offer a wide range of fencing products in various sizes, types, and grades that are durable.
If you are looking for trusted wholesale Commercial Chain Link Fence, TATA Wiron Fence & Barbed wire supplier please contact Deltaware today. We would be happy to help you find the right fencing solution for your needs.
⭐ Wholesale Pricing
100% online ordering & GST Billing
🎯 100% Genuine Quality
Get what you want, right product at the best price
🚀 Flexible Quantity
You can order as low as 5 or 10 qty or more, depending on your needs.
✔️ Just in Time
Prompt delivery from ready stock & custom made as per your need
Here are some of the benefits of using Deltaware Chain Link Fence:
TATA & Commercial Fencing Products available
High quality: Fences, Barbed and Fence Posts are made from high-quality materials.
Competitive prices.
Wide range of sizes and shapes.
Excellent customer service: We offer excellent customer service and are always available to help you with your needs.
Contact Deltaware today to learn more about our TATA & Commercial Fencing solutions and how we can help you with your project.
Frequently Asked Questions #
NO, Due to brand restriction we cannot supply TATA fencing products outside Tamil Nadu.
Yes, we ship internationally. However, some products may not be available for shipping to certain countries. Please contact us for more information.
Yes, we can customize TATA chain link fence, provided you meet our minimum order quantity (MOQ).
NO, we rely on third-party logistics providers to ship our products.
Disclaimer: The product images are for illustration purpose only. Actual product may vary with each unique part number and attributes like size, model, color, etc. We recommend that customers unfamiliar with the products to contact our support team to request a exact images if available from stock. This product comes with warranty against manufacturing defect, refer warranty policy on how to claim warranty. cat/fencing-supplies , gro/fence-roll , pro/fence-chainlink , id/1000